In general, I strongly believe that food is better in ball form.  And ball food is even better with booze.  As we head into the weekend, there is nothing better to do than make a couple cocktails (I have some great ideas here) and invite some friends over.  And it would only be polite to provide them some balls.
You should probably start with Booze Balls.  You can store these for a month in the freezer, not that there will be any left over.  They are made with chocolate and bourbon.  You are welcome.
And, since I have been told that you can't living off of alcohol and chocolate alone.  So, to bring in a little protein, make some Feta, Red Pepper and Spinach Quinoa Balls.  This recipe is simple, delicious, and in glorious ball form.
And because they are super yummy, you should should make Fried Mac and Cheese Balls.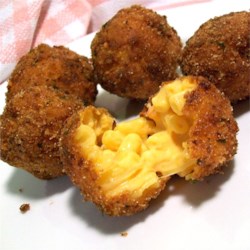 They are ooey, they are gooey, they are balls.  I will admit, these are not easy to make, but even if they aren't perfect looking, they still taste yummy.
Bottom Line: You should make these balls, and invite me over. K? Thanks.